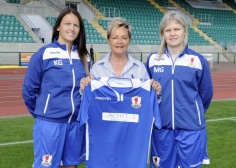 Cardiff City Ladies launched their new shirt sponsor at their first home game of the season at Cardiff International Sports Stadium on Sunday.
The Welsh side, who are currently fifth in the FA Premier National League, are financed independently and have linked for the season with Cardiff-based Archytas Strategic Planning Limited.
Cardiff, who this season celebrate their 40th year, have also launched Macron as their new kit supplier for the season.
Michele Adams, Chair of Cardiff City LFC, said "I am delighted that both Archytas and Macron have decided to work with us in this very special season, both are successful businesses in their own right and their experience and knowledge can only enhance our club and we look forward to a very healthy and prosperous partnership with both companies as we strive to push the club forward."
http://www.cardiffcityladiesfc.co.uk/
Debbie Matthews, a Director of Archytas supported Michele's statement saying "Cardiff City Ladies are a truly inspirational club and we are delighted and proud to be main sponsors for their first team this year. We understand the importance of working as a team here at Archytas and we are thrilled to be both affiliated with and involved in the success of the club and especially in this, their 40th anniversary year. Archytas very much looks forward to being a part of the success of the club as well as looking forward to supporting the girls from the sidelines!"
Pictured – Cardiff Captain Kayleigh Green, Director of Archytas Debbie Matthews and Wales most-capped player Michelle Green.
http://www.shekicks.net/news/category/5